I travel fairly frequently for work, but it is usually Monday through Friday. My trip last week was Sunday through Friday and that extra day was huge. Combined with the three-hour time difference and the 12+ hour days, that extra day just about did me in. There was no blog reading, or much of anything at all for that matter. I would get back to the hotel and be asleep before 8:00. BUT I did get to see a fair bit of the state of Washington -it's on my list of places to go back to so that I can actually do all the touristy things - I did tour four sewage treatment plants (do I have a great job or what?!?), but most folks don't have those on their list of places to go and things to see when they're on vacation (or any other time I imagine).
I should be home for a few weeks before I head out again, so maybe I can catch up on my blog reading (which is probably all I will be doing as I am so far behind that I don't think I will be able to leave comments), stitching and reading.
I did finish up on piece before I left and it is my February
entry. Here is the completed Janie Hubble Designs contribution to The Sampler Life's Yahoo Group's SAL:
The pin is a placement reference for the next block, which should be released tomorrow. I don't know which designer has done March's block, but I am looking forward to seeing and stitching it.
If you are interested in participating, the SAL is hosted by Heather at Stitching Lotus. You should be able to click on the badge above or in the sidebar and go to her site.
And one last SAL/Blog hop for the month is
DESIGN allows us to highlight a designer each month, all we have to have is a current WIP. This month, I'm going with
Lizzie*Kate
. Linda is not a new designer, she's been designing for the cross stitch market since 1996, but she consistently puts out new and fun designs. The one I am currently stitching is
Holly and Hearts Sampler
.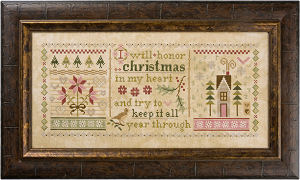 This is the finished piece from her website. This is the fourth or fifth Lizzie*Kate piece I have stitched and I have an equal number in my stash and several others on my wish list. Her color choices could be described as non-traditional but the colors all work well together. I guess whimsical best describes her style. Her pieces range from Snippets (5"X5" or smaller) to larger pieces. Many of her pieces use over-dyed threads and buttons and charms, but DMC substitutions are included and the charms, while cute, are only extras and not major parts of the design. She has a number of kits which I have found to be very high quality with more than enough thread to finish the piece. If you are looking for a fun stitch, this is really the designer for you.