Survived what you ask? Taking Molly and Olivia to the vet. I figured things had calmed down too much so they needed stirring up again. Anyway I am very happy to report that both girls are healthy and are now up to date with their shots. Both girls are also younger than the in-laws said. The vet estimates they are no older than 7, the in-laws said they'd had them for 10 years. Molly, who I have not heard say a thing made her displeasure about the trip and being at the vets know LOUDLY to all who would listen - she made one of the dogs in the waiting room jump with one of her howls!!
This cute little Jim Shore snowman came in the mail today
Funny thing is, I didn't remember ordering it. Now I do forget things, like where I put my keys or parked my car or why I walked out of the room, but I don't forget needlework orders ESPECIALLY as I'm participating in Stitch from Stash right now. Digging around a bit more in the envelope and there was a letter congratulating me on winning one of the prizes on
The Stitchers' Village
12 Days Event! THAT I had totally forgotten about entering
mostly because I never win anything so I never went back and checked.
Speaking of Stitch from Stash, I had a zero spend in January but have already spent February's budget. I caved and signed up for the
Ingleside Imaginarium
Guardians of Notre Dame
SAL. If you haven't seen it, here's the border and first two parts: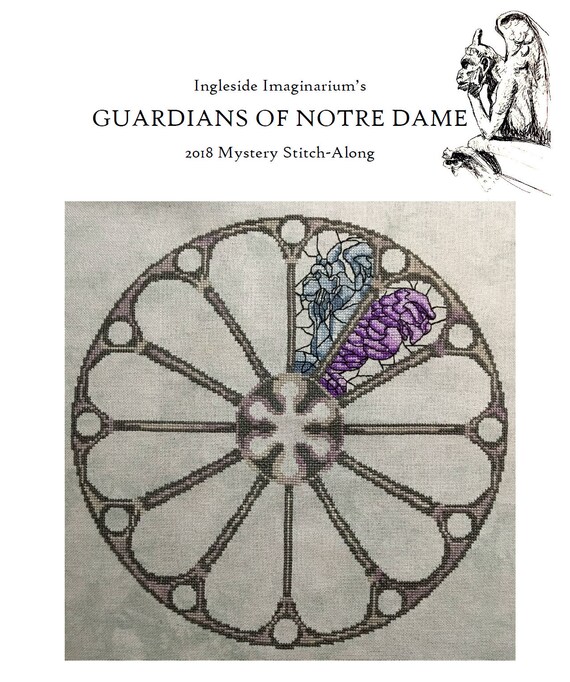 I have no idea what color fabric or whether I will order the over-dye to do the border, but I love grotesques and gargoyles so looking forward to starting this.
I am still filling in the ear/head on the Goldie stocking. When I put it on the frame last week, it was here:
And when I took it off the frame a few minutes ago, it was here:
It's definitely looking more doggish.
So there's some stash and some progress and now, a new start.
This is
By the Full Moon
by Tracy Horner of Ink Circles. It's from the 2010 September/October
Just Cross Stitch
and is stitched on an unknown scrap fabric
although I suspect it is either 28-count DaVinci or 28-count Haunted both by Picture This Plus
with DMC. Yes, I know I said The Sampler Life SAL pieces were going to be my smalls until I finally finished them off, but I just couldn't find one that called to me. When I went looking for one, this jumped out and grabbed me.
Zen will be going on the frame for this week. The PTBs finally showed up so I plan to go back to the middle and tart it up a bit.